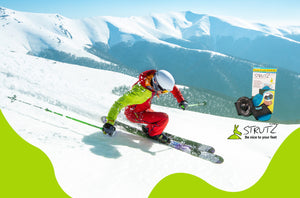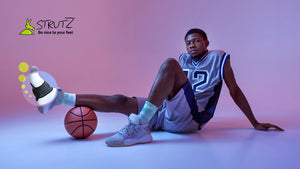 Co-founder, Steven Llorens was skiing out of bounds at Lake Tahoe when both his bindings released and he was hurling down the mountain, between trees and rocks, in his ski boots. As a result of the injuries sustained from this fall he developed Plantar Fasciitis in his left foot which resulted in pain and swelling in the heel and arch area on the bottom of his foot.
"... pain persisted, especially when walking barefoot..."
He was advised by doctors to use orthotic insoles as part of his treatment plan to relieve pressure on his aching feet. But even with insoles, the pain persisted, especially when walking barefoot. Further, none of the orthotics he found could be worn with flip-flops, sandals or slippers.
Frustrated by the lack of relief from insoles, orthotics, and foot wraps already on the market, Llorens set out to develop a product that would ease his own discomfort.  During a follow-up visit with his podiatrist, Spero Demoleas, DPM, Llorens was wearing the device he crafted at home.  Dr. Demoleas was so impressed by Llorens'  invention that he asked if more were available and he began to prescribe what became known as the the Sole Angel® arch support as part of his treatment plan for patients suffering from similar conditions.
Shortly thereafter, Llorens partnered with Co-founder Paul Mazzanobile. Encouraged by the positive responses from Dr. Demoleas and his patients, Llorens and Mazzanobile, backed by friends and family founded STRUTZ®, with the Sole Angel®  arch support as the keystone of the company. Dr. Demoleas and Dr. Robert Conenello, who at the time was President of the American Academy of Podiatric Sports Medicine (AAPSM) and Clinical Advisor to the Special Olympics Worldwide served as medical consultants to the company.
"...The Sole Angel® is proven to provide instant relief for tired, achy feet..."
After the Sole Angel's® introduction to the medical community, it quickly became favored by leading podiatrists across the country. The Sole Angel® is proven to provide instant relief for tired, achy feet and to ease heel, arch, ball of foot, knee, hip and lower back pain caused by stress and shock to the foot, as well as ease pain from injury and conditions such as Plantar Fasciitis, fallen arches and flat feet. Since its introduction the Sole Angel® grew to become a successful "As Seen On TV" product with national distribution in major retailers.
The Sole Angel® helped many people with their painful feet, sore knees, and achy legs and backs. The STRUTZ® PRO evolved from the Sole Angel® maintaining all the Sole Angel® attributes in addition to being a more durable, performance driven product that is now used by elite athletes and weekend warriors alike for targeted compression, performance and recovery after exercise and, extra support and comfort while training. It's CPR For Your Feet™.